Welcome to the Gateway to Your Freedom if you are experiencing a financial crisis this Guide on how to Start Blog and Make Money to Get out of Debt in 2019 is for you.
In 2014 when I started blogging it was out of desperation to find a way out of my financial crisis. I knew then that I could make money from blogging but I did not know how to do it. After many trial and errors and learning from the experts in the market, it became easier and easier.
The truth is I am still learning and I can guarantee you that if you are really serious about making money from blogging and you take the time out to learn from the experts you will be more successful than I am today.
I can understand if you are a bit sceptic (been there done that).  The truth is, there are a lot of scammers online with many fancy stories and the illusion of this get-rich-quick fix. However, there is no need to be apprehensive this is something I have tested and proven and it works.
I know it might sound silly trying to tell your family or friends or coworkers you want to quit your job and make money blogging. They might laugh at you and ask if people really make money from that?"
Everyone wants you to have dreams and succeed in life. They want you to chase them and yes, they want you to be successful.  If you really want to change your financial situation or just want to make some extra money you can but you have to be willing to put in the time and energy.
Making money through your blog is not a pie in the sky, it is possible.  If you do a research on the internet you will see that thousands of people do that every day.  However what you need to know is that making money with your blog takes hard work, dedication and patience.
It won't happen overnight you need to lay the foundation, build your blog, write excellent contents and build the trust of your visitors before the money starts to come in.
I'll be with you every step of the way, offering you my thoughts, insights and guidance. I'll be there to urge you on and show you that you can do it. It simply requires some work, like all good things.
So Let's Get Started! – Start Blog and Make Money
Step #1. Start a Blog
Let me just get this out of the way starting a blog will require an initial investment, but the start-up costs are extremely small compared to starting any other type of business.
So you might want to ask – How much does a blog cost?
Well, a domain with the popular .com at the end will cost about $10 – $15 per year. For the .org it is a bit cheaper. Web hosting will cost you about $9.95 – $11.95 per month.
In short, starting a blog will set you back around $100 – $150 a year. 
What about a free blog?
If you want to make money from your blog  I do not recommend creating your website on a free platform like Blogger.com, WordPress or HubPage.com
Don't get me wrong – those platforms are okay if all you care about is writing your thoughts and sharing ideas.
A free platform is never a good place to host your blog if you wish to make money. There are way too many limitations and disadvantages on a free platform.
For instance, Blogger.com does not allow its users to post non-Google ads. WordPress.com, on the other hand, does not allow image ads and imposes various limitations on sponsored posts and affiliate marketing.
The 4 steps to creating your blog.
1. Pick a niche
2. Register a domain name
3. Purchase a web hosting plan
4. Install a blogging platform (i.e. WordPress)
and your blog is ready to go.
Pick a Niche
A Niche is a specialized subject area or a group of people you will concentrate on to provide a valuable service whether in goods or service and you, in turn, will earn from it.
In other words, it is choosing a group of people to help while you earn money online.
The experts will tell you to pick a niche where people are spending money.  There are thousands of these markets/niches.  Some of the most popular ones, although very competitive are:
· Weight loss
·     Relationships (parenting, marriage, work)
·     Personal Finance
·     Personal Development
·     Sports
·     Pet Training
·     Health & Fitness
·     Make Money Online
·     Lifestyle
–     Fashion & Beauty
·     And TONS more!
Choosing a niche can be overwhelming I say think of something you are passionate about and can easily share with your target group it can either be a hobby, your area of study, your career or special interest. Think of a topic that you will have fun writing about and it will be beneficial and relevant to your readers.
Every one of us has an interest or passion that we are knowledgeable about. The best topic to blog about is the one that ignites your passion. It is important to provide readers with valuable information, readers can tell when a blogger truly cares about a subject.
This creates a sense of trust with your audience, which will keep them coming back for more.
One of the lessons I've learned is to always offer your readers more than you ask for in return. If you present the best user experience, information, and insights, why should readers stop visiting your blog?
There is no instant get-rich-quick formula blogging for money takes time so you will have to be interested and has a passion for the topic you have chosen.
Just like any other business, the journey to success is long. It may be 6 months or 2 years before you see any meaningful traffic or income generated. This depends on the size of your niche, the competition you face, your networking, social media skills and a number of other factors.
Register your Domain Name
Now that you have decided what your niche will be it is now time to buy/register your domain. What you are doing really is giving your blog a name and then you purchase that name so it will be yours and no one else can use that name.
The experts have recommended that you choose a name that is easy to remember and one that relates to your niche.
To register your domain name, (that is the name of your blog), you can go to a lot of providers. However, I recommend you go with NameCheap or Weebly. 
Those are the ones I have used over the years.
NameCheap is slightly cheaper but Weebly gives you a completed website which is ready to use. I use both of them to manage and register my domains; both are okay in my opinion.
Purchase a Web Hosting Plan
Good, you have registered your domain name, but you have to take it one step further. You now have an address for your blog but you have to pay someone to give the readers directions where to find you.  That is really what the hosting companies do, they put your blog in cyberspace so you will be accessible to those who want to visit your website.
 I recommend you use Host Gator they are very reliable and I have been using them over the years.
Install a Blogging Platform
If you have chosen to use Host Gator for web hosting or any other of your choice to easiest and best blog platform to install is WordPress.
Whichever host you use there will be guided instructions on how to install WordPress. It is very user friendly and you will find that even if you are a newbie you will be able to manipulate the features.
You don't have to use WordPress, but I HIGHLY recommend it. It is very easy to use and extremely flexible. This means that you can have your website look really good in no time, without too much technical know-how.
To do this in HostGator, in your control panel just scroll to the bottom and click the big smiley face that says Fantastico de Luxe. In there, you can choose to install a new copy of WordPress on your website.
Once you get logged into the admin section of WordPress, look for a new "Theme". You can do this by going to Appearance -> Themes, and search for a new one. You can look at what's popular, featured themes, or just search by a keyword (like blue, or one column).
There are TONS of videos on how to do this online, so give YouTube or the Warrior Forum a holler for help with this one.
If you are having trouble installing WordPress, HostGator can help you with that as well.
There is an Easier Way You Can Try and Set up Your Blog
I know all that was a lot and could be very overwhelming, it was for me and after setting up my website I found a wonderful programme with the best training.  This program taught me all of the above and the best part of it was that I got my website built in less than 5 minutes.
The training is great and there is a community of people who are willing and ready to help.  This programme takes the hassle out of building your website they do all the heavy work for you.  All you have to do is focus on the valuable lessons that are offered.
Come on the inside and Join Me
Step #2 Starting Writing Interesting and Useful Contents
1. Get to know your readers
Before you start to write, try to get a better understanding of your target audience. What is their interest? Identify the problem. Put yourself in their position and think about what you would like to hear.
For instance, if your readers are in an economic environment where it is hard to find a well-paying job even though they have a good education and job experience. They would more than likely be interested in alternate ways to earn a living and not being under-employed.
Or if your audience is a group of parents with teenage children they would be more interested in ways to effectively parent these teenagers and also help with things that will help them to bond with their teens.
You have to ensure that your article is interesting, useful and not boring so that your readers will want to continue reading, come back and invite others. If you're a boring writer, you've got a tough road ahead.
2. Develop your own writing style and voice
When I first started writing I would visit a lot of similar blogs like mine, look at their writing style and compared mine. Never try to copy content from someone else's blog you can always take their ideas and build on it or use it as an opportunity to go one better.
It will be difficult at first, but as they say, practice becomes perfect everytime you write you should aim to make it better than the last time.
Here are a few suggestions you can use to develop your own voice and style for your blog. Remember that a blog is like having a conversation with your friends.
Consider the readers your friends, try to write like the way you speak. If you find yourself struggling as you write think about what you would say to a friend if you were speaking to them about the topic.
Write your blog with a specific friend or family member in mind. Thinking of someone you know well and who might want to read your blog. The goal is to get your writing to sound more like you are speaking with your friends.
Always have your readers in mind you start to write.  Finally, before you start blogging, spend some time visiting other blogs that are like the one you're thinking of starting. Read one or two for a few weeks and pay attention to things like the length of posts, frequency, writing style, and subject material. You can get some great ideas for your own blog by noting what you find interesting and compelling in other people's blogs.
3. Make it simple so readers can understand
Sometimes I am reading an article and it takes me a while to get an understanding of what the writer is trying to convey. Don't be caught in that trap. Make it simple and easy to understand.
Ensure that whatever you are trying to get across is clear enough so there is no ambiguity.
Being clear is saying what you need to say — nothing less, nothing more. It's about using the right words in the right place. It's about cutting out stuff that distracts. It's about being plain, not fancy.
If you can be clear, you will be more interesting. It's that simple.
The key to writing good articles/content is to think about the readers at all time. Don't overthink, write in a simple language and put across the information as simple as possible.
Be honest, factual, maintain your integrity and try to be helpful at all times. It is not all about money.
4 Finding Keywords
Once you become a part of the blogging world uou are going to see and the "Keyword" everywhere.  These are basically the terms that someone types into Google when they're trying to find something.  So for example, I want to get a house dog I might type into Google The best house dogs or How to potty train my house dog or maybe best toys for a poodle.
These keywords are extremely important because you want to rank your website for different keywords. Certain keywords will get you more visitors than others. Other keywords will give you more "targeted traffic".  Learning the best keywords to go for takes practice, but the best place to start finding them is the Google Keywords Tool. You basically just type in some terms that people within your niche are likely looking for, and it will come up with a lot of the search terms they're typing in that are similar.
For example, if you want to focus on house dogs you can type in there the options that I listed above. When you hit the Search button, it will bring up lots more keywords for you to consider targeting. So in a nutshell, that's how you find keywords.
 Step #3: Attract Visitors
Now that you have produced all these excellent contents on your website it is your job to go and find your target audience so they can read the articles and get help. They are all over the internet so you have to seek them out and visit the spots they hang out.
Tell people in your social media network about your blog
 Make your blog visible to search engines
 Blog regular
 Share your contents on social media
 Write gripping headlines
 Visit other blogs in your niche and leave comments
 Use graphics in your articles
 Optimize your blog so that it can go mobile
 Hang out where your target audience frequent
 Publish a lot of articles
Start an email list
Give away free gift
 Guest Blog
Submit your contents to blogging communities
 Put a Social Media share button on your blog
 Create a Facebook page
 Promote your blog on Pinterest
Convert your contents to videos and share on Youtube
Build a fan base
Network and build partnership
Submit your articles to article directories like Ezine Articles, ArticleBase, HubPages, ArticleDashboard and ArticlesFactory
There are many more directories where you can submit articles but you could start out with these first. When you submit your articles and visitors read them it will point them to your website.
Step #4 – Make a List
Make a list of all your visitors so that you can contact them later to sell them your product (after all that is the objective, to help the readers and make a sale). One of the best ways to make a list is to create an Opt-in Form where visitors will sign in and leave their email address.
You do this by offering them a free gift, or assistance in the form of a free training course or offering regular supply of your newsletter, when they visit your website.
As they say the money is in the list so you have to get the contacts. You create this Opt-In Form by signing up with an autoresponder. This is a company which assist you in capturing the email addresses and sending out your emails to them. One of the best is Aweber.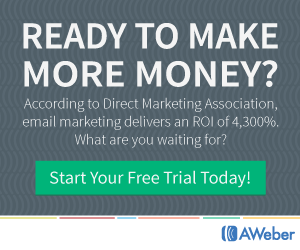 Step #4 Build a Relationship with your Readers
In the blogging world, there is nothing more important than your readers. Building a trustworthy, honest and beneficial relationship with your readers is key and should be the hallmark of every blogger. It might be difficult at first but it is worth every ounce of effort.
Here are some helpful tips for building a relationship with your readers:
Encourage readers to comment
Asking your readers to leave a comment at the end of your content and share their thoughts in the comments can be a great way to build a relationship with them. It makes your blog more personal and interactive. People will feel free to share their ideas and experiences and feel included.
2. Always respond to the comments
Make sure to thank your readers for commenting and also respond to their questions or thoughts. Interact and engage them, and you will realize that as soon as your blog becomes dialogue friendly you are building a relationship with the readers through one-to-one interaction. A simple call for participation or comments at the end of the post should do the job!
3. Stay Positive at all Times
In responding to your readers make sure your responses are always positive, be as helpful as you can with any question or issue they have – and accept any criticism as gracefully as possible. The readers comments can be very harsh and painful at times but you have to toughen up and accept them in good grace.
You cannot get confrontational or defensive, it can only end badly for you – it makes you look bad, stifles honest discussion, and prevents good relationship building between you and your readership.
4. Show your Human Side
Don't be afraid to express your emotions. From time to time let your readers know how your day is going and share personal success with them also. Never be afraid to admit your failures/mistakes. If you had erred or made a bad judgement be brave enough to admit to your readers and find a way to make amends.
After all, honesty is the best policy.
5. Inspire your Readers
Give them hope. Let them want to come back for more be inspirational and be a motivator.
Step #5 Start Making Money from your Blog
If you are blogging online to make money then obviously the main objective is to create a superior blog, build a foundation, get a lot of readers, maintain a good relationship with them and start making money.
There are many ways to make money from your blog, some will work for you and some will not. It is up to you to try as many as you can until you have perfected the ones that work for you. You just have to be patient and give them time to work.
Here are three (3) popular ones that have worked for me:
Affiliate Marketing
This is one of the most popular and effective ways to make money from your blog. If done properly this could become your main stream of income. For example, if you have a parenting website you could research affiliate programs that contain products related to parenting.
2. Email Marketing
A lot of money can be generated from email marketing if you learn the strategies. The key is to build a large email list of your customers/visitors. When people register to become a member, you get their email address. You can build a brand, recommend products, promote any events/workshops with a good email list.
It is not a direct way of making money, but it is a powerful way of increasing your income from your other methods by driving traffic back to your site. Just don't go overboard with emails so that they are viewed as spam! Nobody likes spam!
3. Google AdSense
Google AdSense is an advertising placement service by Google. The program is designed for website publishers who want to display targeted text, video or image advertisements on website pages and earn money when site visitors view or click the ads.
You would have seen a lot of these advertisements when you browse other websites. Google has designed these ads to take the hassle off web designer/website owner from researching millions of merchants and to choose the correct ones.
When you then sign up for the Google AdSense program, you insert a small snippet of code in your webpage and Google ensures that in the location you specify, a banner will appear. You (the webmaster) get a fee for each visitor that clicks on an AdSense banner on your site.
However, as always, Google has set some high standards for its AdSense program, in terms of looks, content quality and functionality. You can't have more than two such banners on your website and Google only inserts text in these banners.
Ensure You Get That Sale
Most times when a visitor leaves their contact it is because they want something from you. You have to ensure that you make the best of it and maintain a lasting relationship even they did not make a purchase initially. Another important thing is that one of the strategies is to develop every customer's lifetime value.
Experts say that at least 36 percent of people who have purchased from you once will buy from you again if you follow up with them. Closing that first sale is by far the most difficult part–not to mention the most expensive. Some suggestions for you:
Offer products that will solve their problem
§ Be a testimony of the product
§ Be honest give the pros and the cons
§ Refer them to substitute while imploring the value of what you are offering
§ Remember to send out "Thank you" letters after a purchase
§ Become a friend Reward your customers for their loyalty and they'll become even more loyal.
The internet changes so fast that one year online equals about five years in the real world. But the principles of how to start and grow a successful online business haven't changed at all. If you're just starting a small business online, stick to this sequence. If you've been online awhile, do a quick review and see if there's a step you're neglecting, or never got around to doing in the first place. You can't go wrong with the basics.
Step #6 – Repeat, repeat and Repeat
Congratulations! you have completed Steps 1 – 5, Step 6 is simply to keep doing what you're doing. Repeat the process over and over again paying key attention to what works and where to tweak to make it better.
Your ongoing work as an affiliate marketer will be to repeat steps 4 – 6 on a continual basis. Building a site up to a point where it can make you consistent income takes a bit of work and you must be willing to constantly create, promote, market, innovate and of course, sell.